You work hard for your business. Let ACU work hard for you.
At Assiniboine Credit Union, our local experts deliver some of Winnipeg's most diverse commercial financial services, in one place.

Most importantly, the Business Financial Centre (BFC) goes beyond lending money and offers the financial counseling you need to succeed.
Contact us for a no-commitment consultation with one of our business account managers.
The Business Financial Centre (BFC) offers guidance and advice that supports and encourages the growth and good financial health of businesses in Manitoba.
At the BFC, you get a local, dedicated account manager who can assist you with:
Customized accounts and deposit strategies
Commercial mortgages and leasing
Construction financing and bridge financing
Term loans, operating lines of credit and letters of credit
Daily business banking online 24/7
Expert financial advice
Deposits guaranteed 100% by the Deposit Guarantee Corporation of Manitoba
When it comes to business projects, big or small, we do it all.
This is ACU. This is money doing more.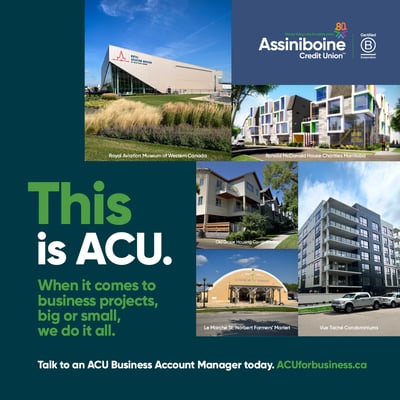 You may also be interested in
Frequently asked questions
Does ACU have daily business banking accounts?

Yes! We offer business chequing and savings accounts. These accounts are available 24/7 through online and mobile banking. Learn more about our business chequing and savings accounts.
What about a business credit card?

We offer a full line of Visa business credit cards in partnership with Collabria. Find the one that is right for you and apply today!
Do you offer construction loans?
Will the team be able to support me long term?

Yes. We know relationships matter, and ongoing expert advice, products, and services will always be accessible to help you tackle future opportunities and challenges. All our business advisors are local, so every decision is made in Manitoba, enabling us to understand key market drivers and provide a quicker turn-around time. We're in it for the long haul for all your future business needs.
Why should I work with a credit union?

Credit unions are local and committed to supporting the local economy, but don't confuse that with being small. ACU is one of the top 15 Canadian credit unions with over $1B in commercial credit, and the resources to support you long term.

As a credit union, our account holders are members, and we work to help them achieve their own financial goals while also making the world a better place.

Money doing more is the guiding statement that represents the way we do business, and conveys our ongoing commitment to the economic, social and environmental health of our communities. Over the last 80 years, we have helped our member-owners achieve their dreams, and we'd like to help you achieve yours.
What are your commercial rates?

You'll find up-to-date business chequing and savings account rates information on our Rates page. For commercial mortgages, loans, lines of credit and more, please contact a BFC advisor.
ACU is the only financial institution in Manitoba to be a Certified B Corporation®. We join 5,000 businesses worldwide across 80 nations that are leading a global movement of using business as a force for good.
ACU was named a 2022 Best for the World B Corp in recognition of its positive impact on its community, customers and governance.